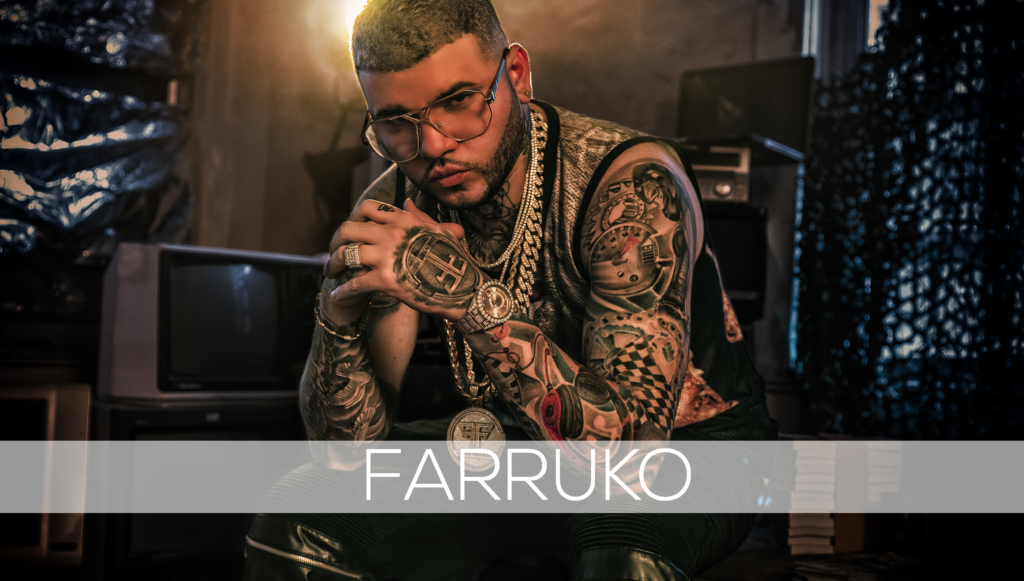 Biography
Carlos Efren Reyes Rosado, better known as Farruko, was born in Bayamon, Puerto Rico, on May 2, 1991. This singer-songwriter is considered by experts as a musical phenomenon of our times for his great musical versatility performance expertise. Farruko has consistently demonstrated his dominion
over most sub-genres of urban music like Reggaeton, Rap, Hip Hop, R & B and now Trap Latino.
Hehas also proved his adaptability, crossing over into pop, bachata, mambo and vallenato genres.
Farruko has released several albums, delighting the fans production after production. In 2011, Farruko introduced us to his first solo album, "El Talento del Bloque," which contains 13 songs written mostly by the artist himself and included collaborations with Jose Feliciano in "Su Hija Me Gusta" and Daddy
Yankee in "Romper La Discoteca." A year later, in 2012, the artist launches his second album, "TMPR*THE MOST POWERFUL ROOKIE," which earned a nomination for Best Urban Album of the Year at the prestigious Latin Grammy 2012.
In 2013, Farruko launched his third album "Imperio Nazza – Farruko Edition," with which Farruko toured around major U.S. Hispanic markets throughout the year, earning more notoriety and helping his fans put a face to the voice that was already taking over the airwaves, websites and digital sales charts.
Part of this album was his internationally popular hit song, "Besas Tan Bien," which reached the Top 20 in Billboard's Latin Rhythm chart and stayed there for more than 16 consecutive weeks, and 21 weeks in total.
Throughout 2014, Farruko positioned himself firmly among the most successful artist of the genre. The singer gave life to two of the most successful tracks of the year, simultaneously positioned at the top of the charts: "6 AM" feat. J Balvin (dominating the #1 position on Billboard for approximately 16
weeks) and "Passion Whine" read more … CLICK HERE